Applied Conflict Transformation Training Course: Focus on Solutions
Many people worry when thinking of conflict or, if possible, avoid thinking about it altogether. Instead of engaging with a problem in a healthy manner this behaviour usually makes things worse in the long term. The free two-day training course Focus on Solutions offered by the Romanian Peace Institute PATRIR addresses this issue. Apply for participation and learn how to see conflict as an opportunity for positive change. Using real life examples, participants will learn how to dissect a conflict and explore its actors to gain a better understanding of the underlying causes. Based on their findings they will develop a strategy to peacefully transform the conflict at hand so that all conflict parties can accept the outcome.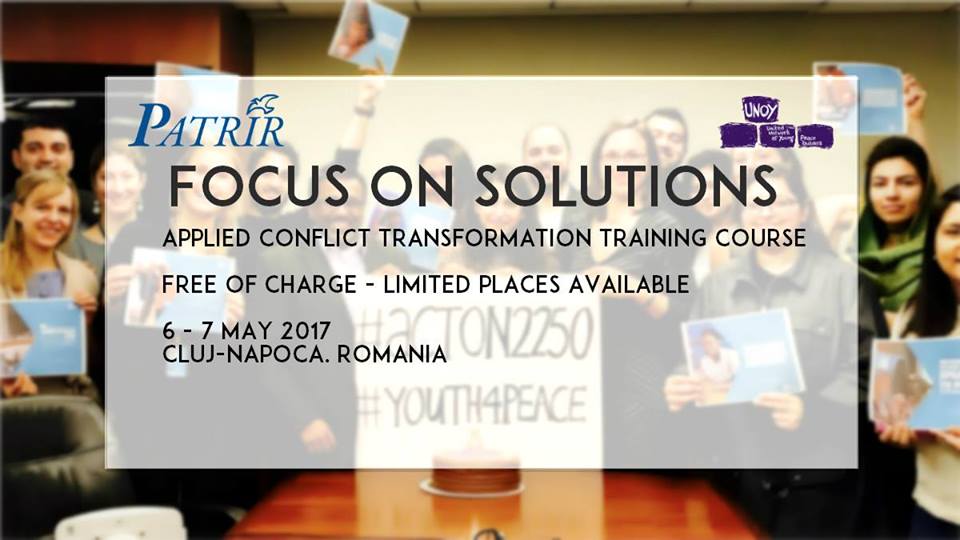 To be able to analyse a conflict using common conflict analysis tools.
To develop the capacity to peacefully transform a conflict in a creative manner.
To further develop the ability to actively listen to enable constructive dialogue.
To further develop the ability to empathise with another person.
Description of the course
Conflict is commonly misunderstood as something inherently negative that should be avoided at all cost – hence the focus on preventing or resolving conflicts. We are daily confronted with the shortcomings of these approaches in the news: the failure to prevent wars in Ukraine, Syria, and Yemen. The inability to resolve the Arab-Israeli conflict. The Brexit as a result of a failed attempt at integrating British national interests and European policies. Political violence, social exclusion, and discrimination of minorities are all symptoms of the same issue: the inability to constructively engage with conflicts. Out of fear to touch upon a subject that might be considered a taboo we rob ourselves of the opportunity to live up to our own full potential.

Conflict Transformation is built around a different understanding of conflict. Instead of perceiving it as a negative, isolated event, conflict is understood as a natural occurrence in human co-existence that can be transformed to be the driver for positive change. Conflict Transformation is a complex, long-term process designed to transform relationships by creating solutions that are comprehensive, compassionate and creative.

The training course 'Focus on Solutions' was designed for young people between 18 – 30 (exceptions will be made) that are interested to act as change makers in their communities. Over the course of two days, participants will become part of the Conflict Transformation Team Cluj (CTTC). Members of the CTTC will be working in small, specialised task forces to transform conflicts they encounter in their lives. These task forces are designed to offer very practical insight, and participants can use the results of this programme as basis for their future work as activists, advocates, and in their personal or professional life.

'Focus on Solutions' is designed to be an appealing and useful mix of theory and practice that equips participants with the essential skills required to engage in a Conflict Transformation process: analysing a conflict and its actors using basic conflict analysis tools that are used every day by practitioners around the globe, identifying possible entry points for interventions, coming up with creative solutions that all conflict parties can accept.

One of the most challenging aspects of this process is engaging in sincere, open dialogue with a party we are in conflict with. Members of the CTTC will be working on developing two core competencies required to successfully engage in dialogue: active listening and empathising. The ability to feel empathy with other people is an important and learnable skill that enables us to understand the point of view of another person without the need to agree with it or to sympathise with them. Active listening describes the ability to deeply get engaged with another person during a conversation; it enables us to participate in a dialogue to listen instead of to talk, which results in a deeper bond between speaker and listener.
Morning    
Creating Common Ground – Setting Objectives and Expectations
Engaging with Conflict & Peace: Important Concepts and Terminology
ONE HOUR LUNCH BREAK (LUNCH NOT INCLUDED)
Afternoon
Making Sense of Conflict: Practical Tools for Peace & Conflict Analysis
Envisioning Change
Morning   

Developing Core Competencies 1: Empathising with the 'Other'
Developing Core Competencies 2: Active Listening
ONE HOUR LUNCH BREAK (LUNCH NOT INCLUDED)
Afternoon
Forum Theatre: Transforming from Bystander to Spect-Actor
Moving Forward: Creating Creative Solutions
Reflection
Benedikt Hielscher is a core team member of the Department of Peace Operations and offers training support for the International Peace and Development Training Centre. He has background in mediation, mediation support, social mediation, and experience working with Libyan tribal and community leadership, civil society, women's organisations and youth to strengthen sub-national mediation and peace processes. In addition to his work with the Romanian Peace Institute he engages as a member of the European Youth Advocacy Team of the United Network of Young Peacebuilders on advancing the implementation of European policies and legislation to support youth peacebuilding efforts in Europe and globally. Benedikt holds an MSc. in Political Psychology from Queen's University Belfast, where he focussed on the political psychological analysis of the MENA region.
UNOY is a network of 70 youth organisations in 45 countries working in the field of peacebuilding. The organisation works to increase the role of young people in building peace around the world. The work primarily includes two different types of activities: International advocacy for youth participation in peacebuilding and strengthening the capacity of youth peacebuilding organisations in the form of training series, long term partnerships and publications. With its advocacy activities UNOY aims to shape international policy and practice on peacebuilding, encouraging enabling environments for young peacebuilders working at the local, national and regional levels all over the world. By strengthening the capacities of youth peacebuilding organisations, UNOY aims to empower young people to be even more effective in the work they do locally and thereby also strengthen the global voice youth working for peace.